Mojave Underground at "The Mine" Premiere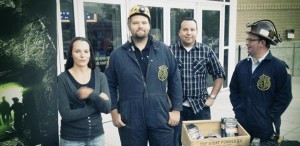 Mojave Underground was involved in the filming of director/writer Jeff Chamberlian's film, "The Mine" a couple of years ago.  We helped assist the cast and crew as they filmed the horror film in the Ophir Hill mine.
After a lengthy post-production, the film has finally come out.  Members of the Mojave Mine Team helped represent the organization during the red-carpet event.  We handed out flyers and let people look at some artifacts, rocks, and the MU mannequin, which proved to be quite popular.