Featured Mine – Animas Forks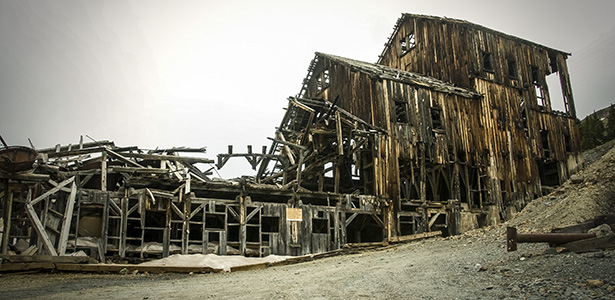 Abandoned Mines of Animas Forks, Colorado
Animas Forks is a ghost town located just northeast of Silverton, Colorado. The site continues as a tourist attraction. A Colorado State Historical Fund grant to San Juan County, in cooperation with the Bureau of Land Management, provided for stabilization of the remaining structures in 1997 and 1998.  The site is managed collaboratively by the Bureau of Land Management and San Juan County, which provide interpretive brochures and maps at an adjacent parking area. Although entry into the buildings is unrestricted, some of the flooring is reported to be fragile and subject to collapse.  The area is home to dozens of mills, plenty of mines, and a handful of cabins.  It is one of the better preserved ghost towns in the western US.
Mining History
The town's first log cabin was built in 1873 and by 1876 the community had become a bustling mining community. At that time the town contained 30 cabins, a hotel, a general store, a saloon, and a post office. By 1883 450 people lived in Animas Forks and in 1882 a newspaper, the Animas Forks Pioneer, began publication and lasted until October 1886. Every fall the residents of Animas Forks migrated en masse to the warmer town of Silverton. In 1884 a 23 day blizzard inundated the town with 25 feet (7.6 m) of snow, the residents had to dig tunnels to get from building to building. Mining, speculation and processing mills helped Animas Forks grow.[1]
When mining profits began to decline investment in Animas Forks was no longer justified and although mining made a brief 1904 rebound with the construction of the Gold Prince Mill, the town's mining days were nearing an end. A rail line ran through the area and also re-stimulated interest in mining in the community but the railroad never reached its expectations. The Gold Prince Mill closed in 1910 and in 1917 most of the mill's major parts were removed for a new facility in Eureka. The mill's dismantling signaled the beginning of the end for Animas Forks and the town was a ghost town by the 1920s.[1]